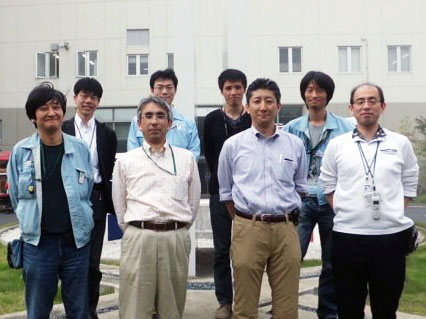 Our group is interested in investigating the microscopic properties of matter using a quantum beam of muons. A muon (μ), which interacts with matter in the same way as an electron and light, is a convenient particle with which one can investigate the state of matter at the atomic level. In addition, the muon measurement method provides information that cannot be obtained by other conventional methods. We believe that the muon beam is a new "microscope" that is as useful as light (X-rays) and electron beams for cutting-edge researches on materials and life sciences.
Currently, the world's most intense muon beam is available at the experimental facility at Tokai-mura. The muon beam is expected to contribute to a variety of fields including fundamental physics, condensed matter physics, and material and life sciences. Our Muon Condensed-Matter-Physics Group seeks graduate students who are eager to get involved in condensed matter physics research.
Using materials having a crystal structure composed of a corner-shared network of regular tetrahedrons as testing grounds, we are investigating the properties of materials such as "heavy fermion (electron) state" that might be associated with frustration caused by antiferroic interaction (interaction that tries to arrange a degree of freedom, such as a spin, an orbital, or an electric charge, in the opposite direction) between atoms situated at the corners.