Muon science group
●

Main research projects
[Research on the technology of sophisticated muon beams]
Ultraslow muon microscope
The slow (surface) 4-MeV muon beam, which converges to Φ70 mm using a superconducting axial focusing magnet system, is injected into a target (high-temperature tungsten foil) and instantaneously decelerates to 0.2 eV, to generate muonium (Mu: the bound system positive muon and electron). The decelerated muons evaporate from the tungsten target as thermal Mu and are excited from 1s to 2p by 122-nm Lyman-α laser light. Electrons in Mu are stripped by 355-nm and Lyman-α laser lights and the thermal Mu is converted to ultraslow muon. It is possible to extract ultraslow muons by using an SOA lens and a quadrupole lens to the nano-metre μSR spectroscopy. Independently we are planning to accelerate them to make a micro beam by the induction acceleration.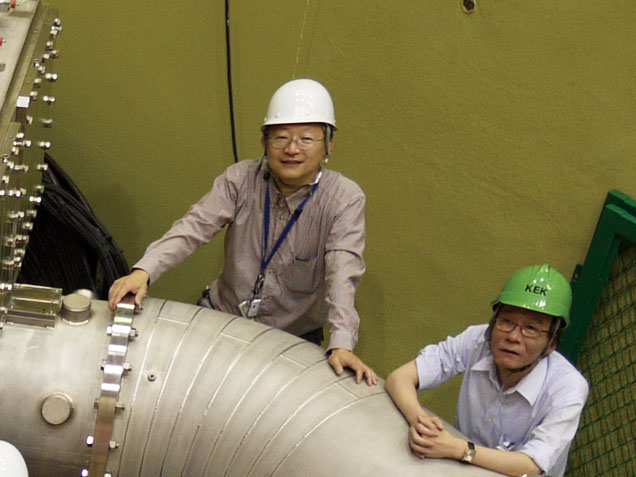 超低速ミュオン顕微鏡の詳細 → 超低速ミュオン顕微鏡と極微μSR法創成 A01班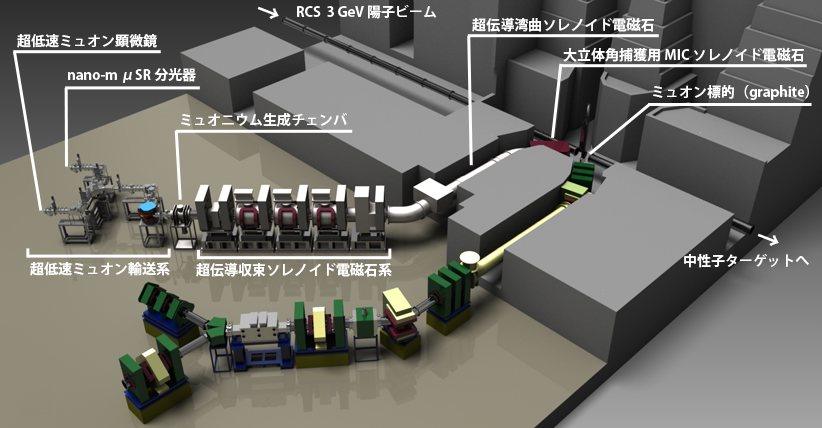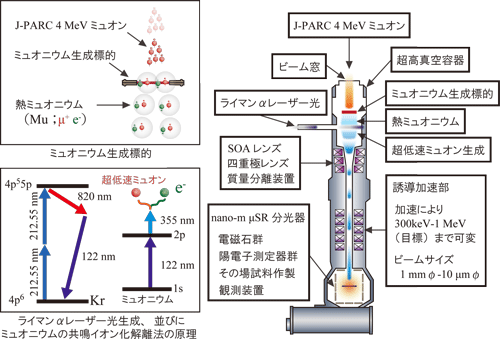 [Nondestructive element analysis method using negative muons]
Nondestructive analysis of a sample from an asteroid using muonic X-rays –conducted as a collaborative research project by Osaka University and the Institute of Materials Structure Science at KEK–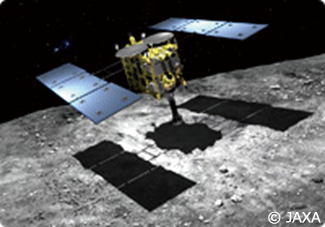 Muonic X-rays are characteristic X-rays that are emitted from an element that absorbed negative muons. They have a great ability to penetrate matter; therefore, it is possible to detect any signal from deep inside a sample. This way we can analyze rare samples in a nondestructive way.
[Material science research using muons]
Research on hydrogen electron structures in industrial materials –performed to find the origin of n-type electric conductivity in gallium nitride–
Hydrogen atoms are key players in semiconductors and significantly influence bulk electrical activity; however, it is extremely difficult to conduct research on very-low-density hydrogen (isolated hydrogen center). We observed the electronic structure of an isolated muonium center in a semiconductor using high-time-resolution μSR and simulated isolated hydrogen. A small activation energy was observed, which indicates an isolated hydrogen forms a shallow donor. The results strongly indicate the origin of n-type conductivity in GaN by unintentional hydrogen.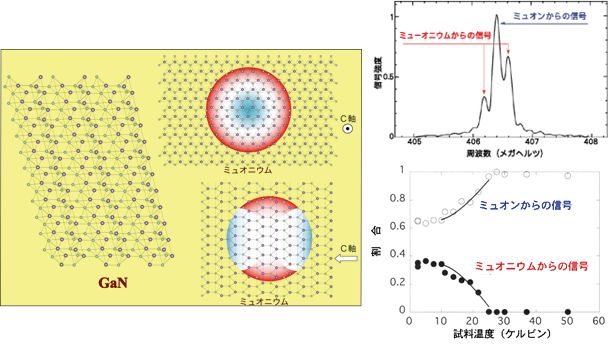 Observation of Li(Na) diffusion in Li(Na) battery materials
Liquid batteries are used in cars, but development of all-solid batteries is underway to save on weight and space. Development of such a battery requires a way to continuously measure the motion of Li, including at the interfaces between the cathode, the solid electrolyte, and the anode.
Members
| Name | Position | Fields |
| --- | --- | --- |
| SHIMOMURA, Koichiro | Professor | Materials Science with Muons, Ultra Slow Muons |
| KAWAMURA, Naritoshi | Assoc.Professor | muon science, muon catalyzed fusion, beam physics |
| OISHI, Yu | Assoc.Professor | Laser engineering physics, Ultra Slow Muons |
| NAGATANI, Yukinori | Assoc.Professor | |
| STRASSER, Patrick | Assoc.Professor | Particle accelerators, X-ray spectroscopy, Muon science, Accelerator physics |
| KANDA, Sohtaro | Assistant Professor | |
| YAMAZAKI, Takayuki | Assistant Professor | |
| MIYAKE, Yasuhiro | Researcher (KEK) | Ultra slow muon, Laser, Nondestructive analysis |
●

Link

Muon Science Laboratory http://msl-www.kek.jp/folder_Eng/index_en.html