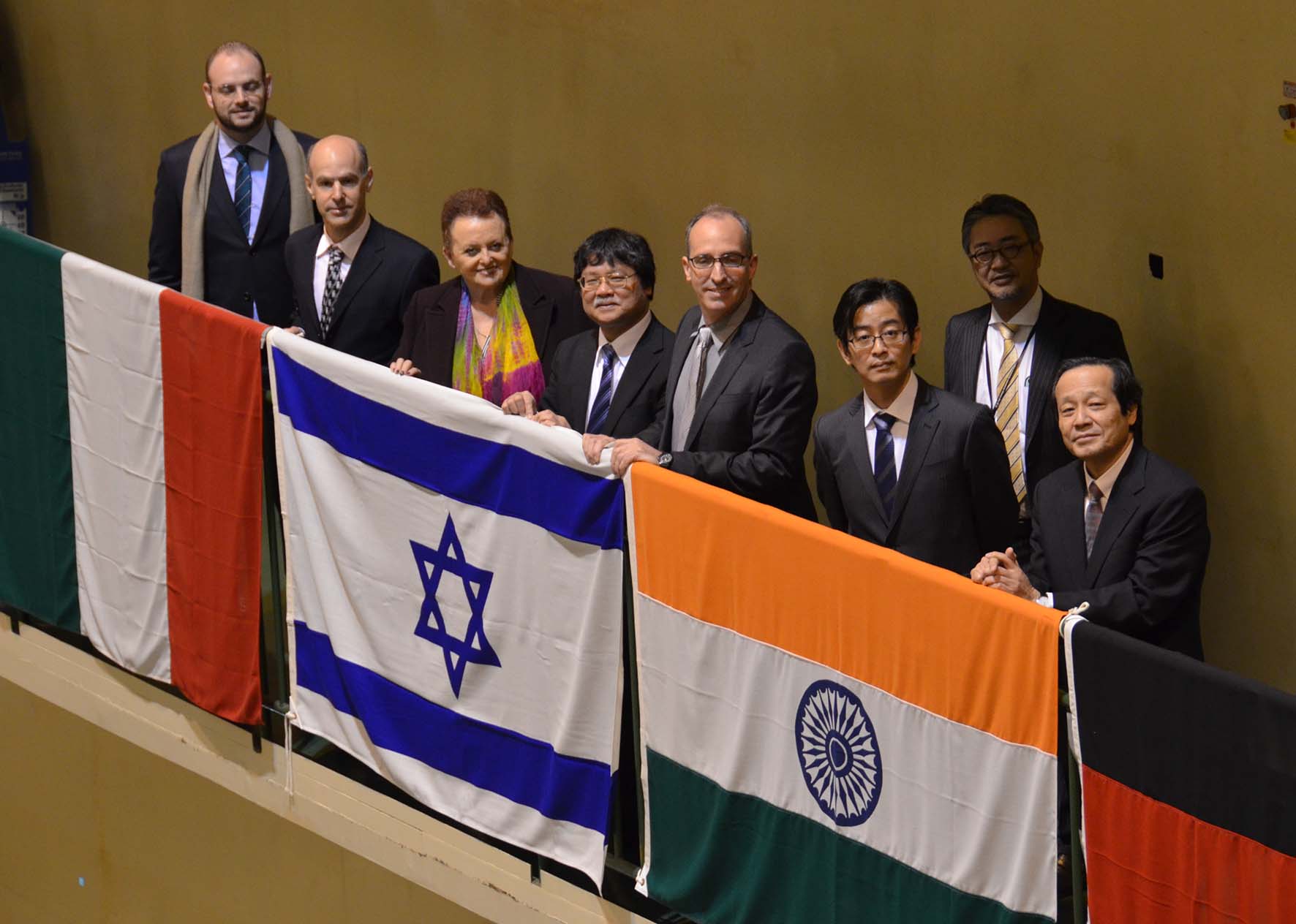 On February 22, the Ambassador of Israel to Japan, Her Excellency Yaffa Ben-Ari, and her party visited KEK Tsukuba Campus to attend a ceremony of raising the Israeli national flag at Tsukuba Experimental Hall, where the Belle II detector is installed and is being prepared for the first beam collision this spring. The Israeli flag joined the flag of 24 other nations on B2 floor of Tsukuba Experimental Hall as Israel became the 25th member nation of the Belle II experiment.

In addition to Her Excellency, the visiting party included Arieh Rosen, Culture & Science Affairs Attaché, and Satoko Oda, Science Officer of the Embassy of Israel to Japan. They were met and greeted by KEK Executive Director Yasuhiro Okada, Deputy Director of KEK/IPNS Junji Haba, Prof. of KEK/IPNS and the Belle II Financial Officer Yoshihide Sakai, Prof. of KEK/IPNS and the Belle II Project Manager Yutaka Ushiroda, and other KEK researchers. New collaborator from Israel Prof. Abner Soffer (Tel Aviv University) and the Belle II Spokesperson and Prof. Tom Browder (University of Hawaii) also attended.
After watching presentations on KEK and Belle II activities from Executive Director Okada and Prof. Browder, The party toured the Tsukuba Experimental Hall with KEK members and raised the Israeli flag from a handrail of the B2 corridor, between the Indian and Italian flags according to the alphabetical order.
At the reception which was held to celebrate the Israel's participation in the Belle II Experiment, Her Excellency Ben-Ari said that although the technological, scientific and economical situations in Israel and Japan are far from similar, she trusted that high level co-operation between the two countries would produce interesting results.
New Collaborator from Israel Prof. Soffer who has an experience of Physics Analysis Coordinator, BABAR Experiment hosted by SLAC National Accelerator Laboratory, Stanford University, also commented, "It is a sort of homecoming to come to work this kind of physics. …I hope this can be the start of further collaboration between Israel and Japan in scientific area. I will be happy to help."
---
Related Link
News Link
Gruop Link
---
KEK Channel on Youtube
A Search for New Physics - The Belle II Experiment